PARIS Skins

PARIS owes part of its distinctive and beautiful "look" to the handcrafted bitmaps by Stephen St. Croix that it uses as UI elements.
Using handmade bitmaps as key parts of the user interface brings both advantages and disadvantages. One disadvantage is that in order to "skin" PARIS, replacement bitmaps have to be created, screen by screen and button by button. Thus the process of "skinning" PARIS is a time-consuming labour of love (Jim Drago estimates about 100 hours per skin). The use of .bmps also constrains windows to behave in certain ways, leading to slightly non-standard window behaviour. But as you can see, the finished result can be beautiful.
New:
Much of the remainder of PARIS' graphic "look" lies in the color scheme laid out in the file called
PARIS.dat
(located in the app's root folder). Paris.dat can be opened with any text file editor and the colors (which are stored as RGB values like 221,85,159 etc) can be easily edited or new values pasted in. The color of many items in PARIS can be freely reassigned: fonts and menus, most of the items in the Editor Window (except for the bitmaps at the top and down the left of the screen), the text colors in the Mixer Window and colors of editor lanes and audio objects are just a few of the potential targets for "re-colorization". A proper index laying out the relationship between the colors in Paris.dat and elements of the user interface is in progress; first up will be a "RADAR-like" color scheme for the Editor Window which can be install by either replacing the Paris.dat or by cutting and pasting the relevant sections of text into one's own Paris.dat. Unlike early adventures in skinning, no adverse effects have yet been noticed from this editing (ie PARIS doesn't seem to care what color its interface elements are).
The following hand-drawn skins were created and contributed by PARIS "skin gurus"
Mike Yanoska
and
Jim Drago
; revised and streamlined
instructions
courtesy of the PARIS community's Jon Bergh (thanks Jon!).
NOTE FOR PARIS MAC USERS: unfortunately, no way has yet been found to install them on the Mac OS9 version of PARIS, although many attempts have been made. If you succeed, please let us know how you did it!
Existing Skins
Installation instructions are included with some of the downloads. They are also displayed on the
Paris Skins Instructions
page.
Important note: for the moment, installation requires "hacking into" the PARIS.exe; it's not very difficult to do, but it is still essential to back up your PARIS.exe first and follow instructions carefully while installing them. A careless installation will have unpredictable results, or render the application unbootable, so follow the directions carefully. Most importantly - always work on a copy of your .exe - you have been warned!
The following are screenshots of a "skinned" PARIS, courtesy of
Jim Drago
and
Mike Yanoska
. Quite aside from their great aesthetics, skins like "Variation" can aid visual orientation and ease visual "clutter" by, for example, providing greater distinction between "aux" and EQ" sections of channel strips.
NEW SKIN by Jim Drago:
Bronze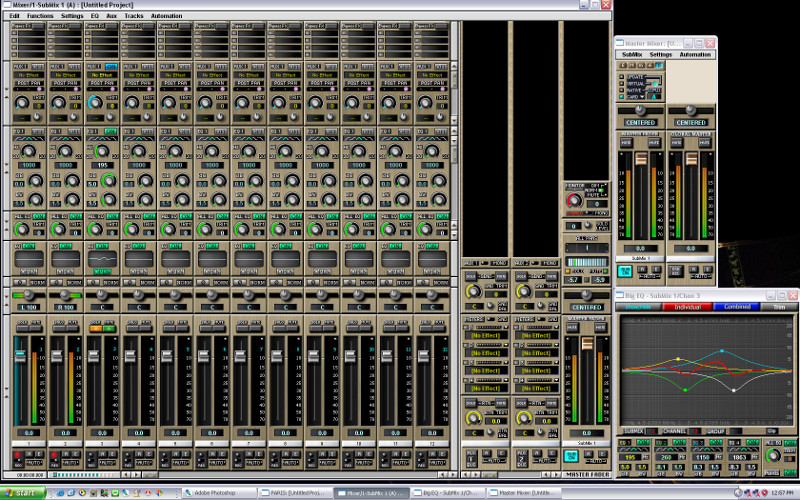 NEW SKIN by Jim Drago:
Red Anodized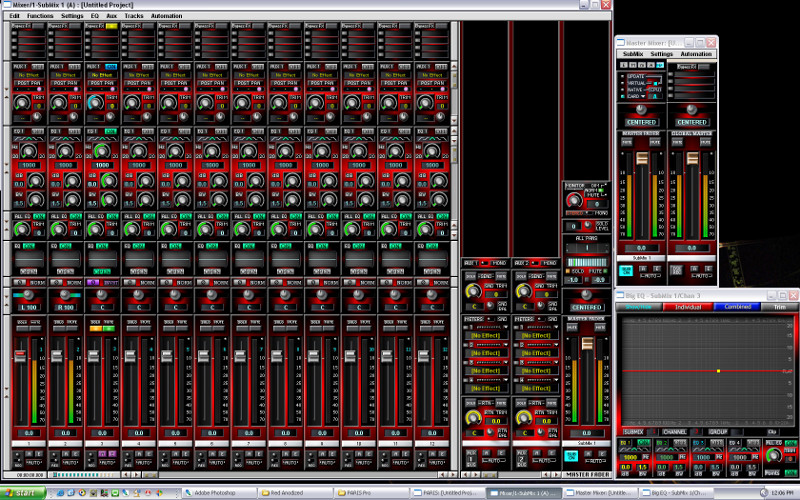 NEW SKIN by Jim Drago:
Psycho Camo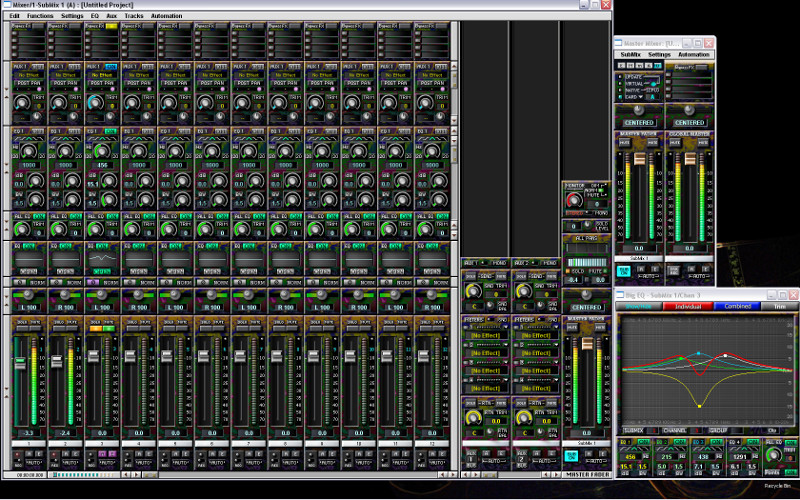 NEW SKIN by Jim Drago:
Flame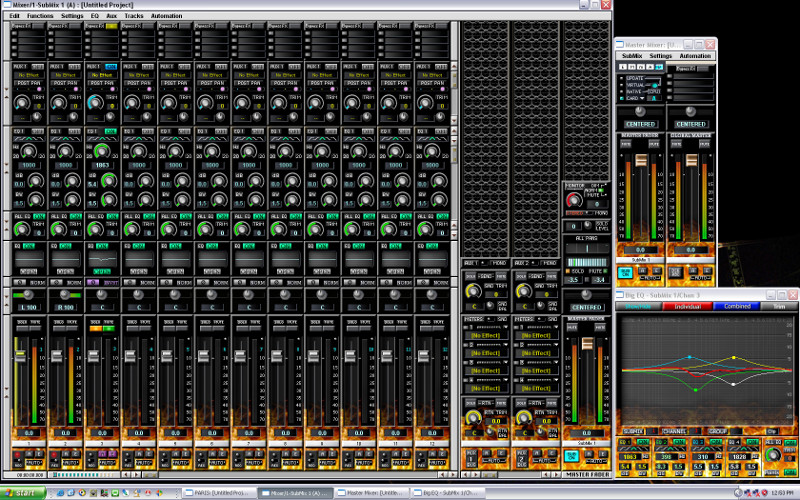 NEW SKIN by Mike Yanoska:
Neve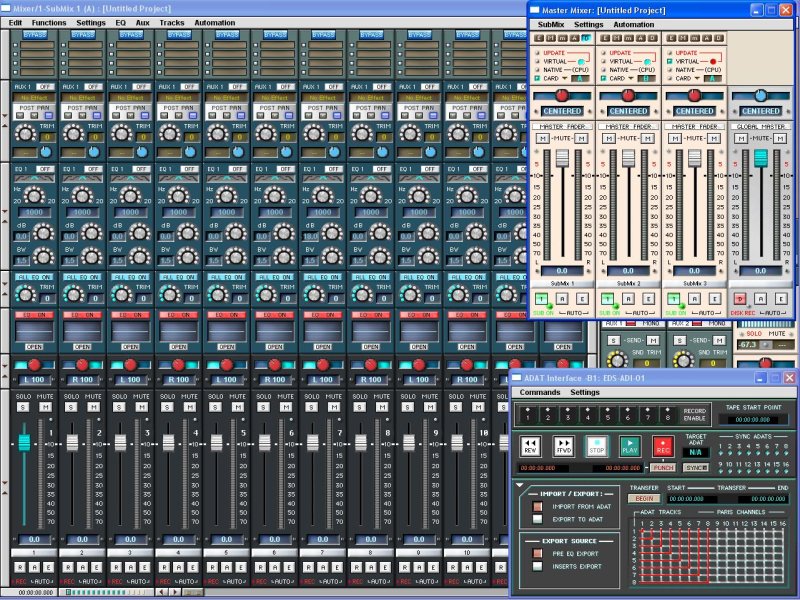 NEW SKIN by Mike Yanoska:
Modern Look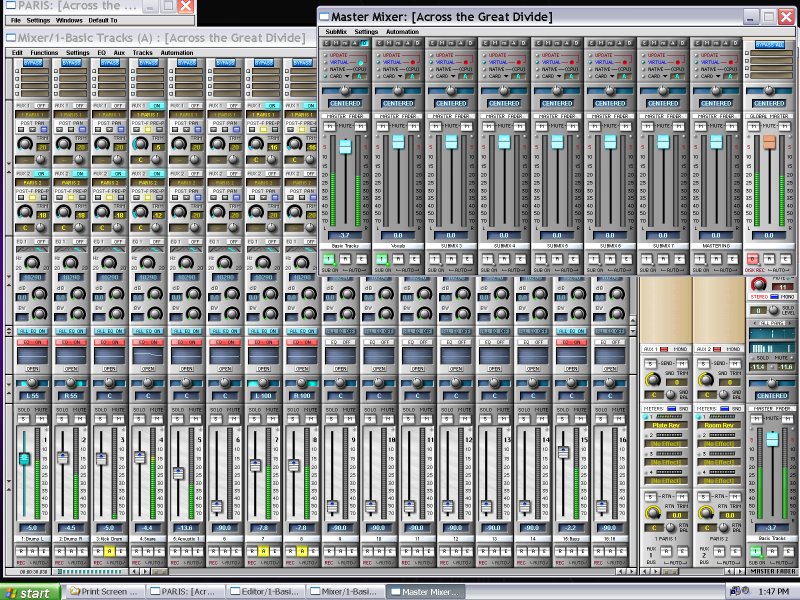 NEW SKIN by Mike Yanoska:
New Buttons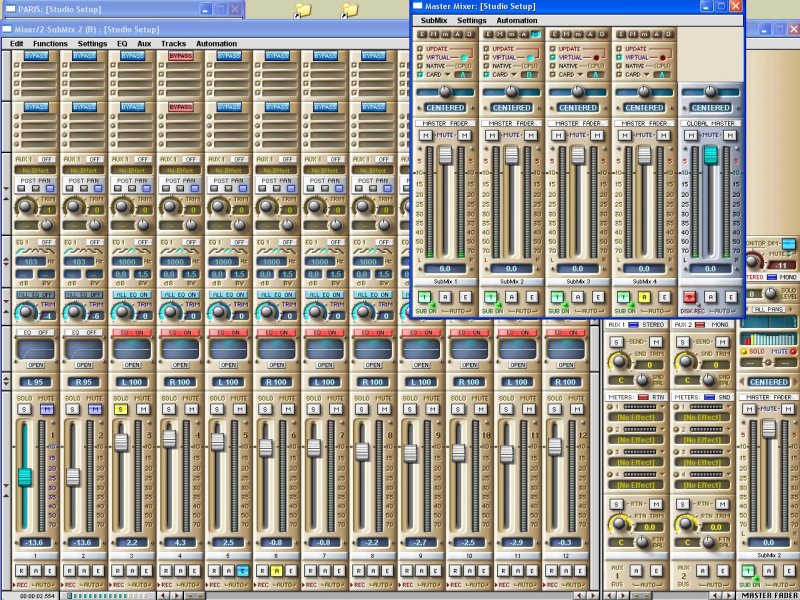 NEW SKIN by Jim Drago:
Aluminum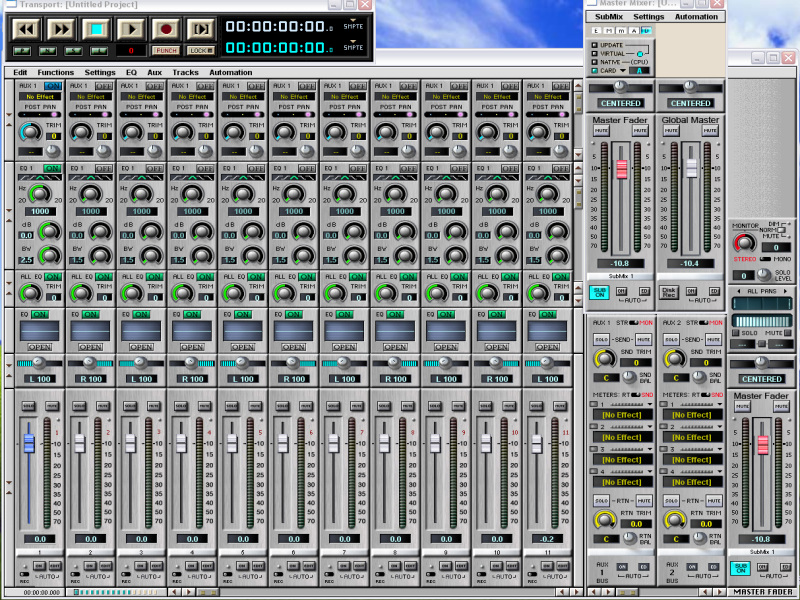 NEW SKIN by Jim Drago:
Black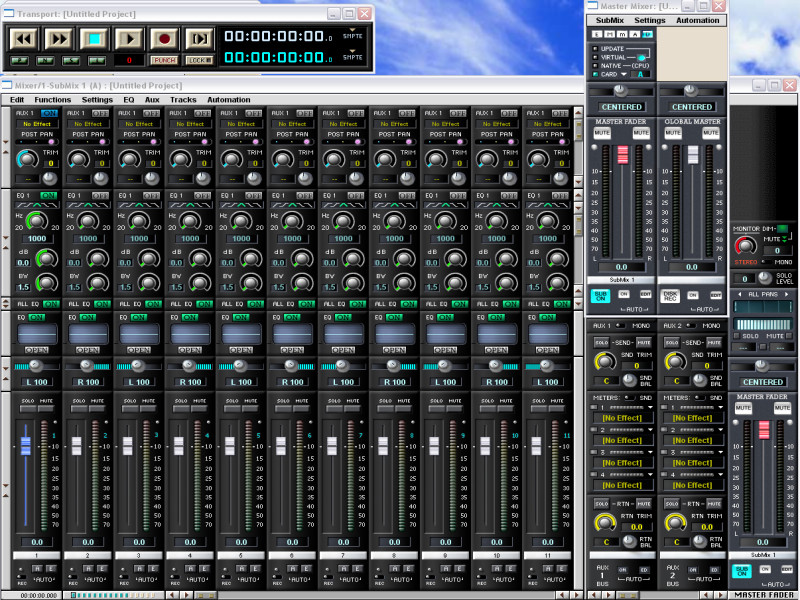 ---
Classic PARIS skins:
Variation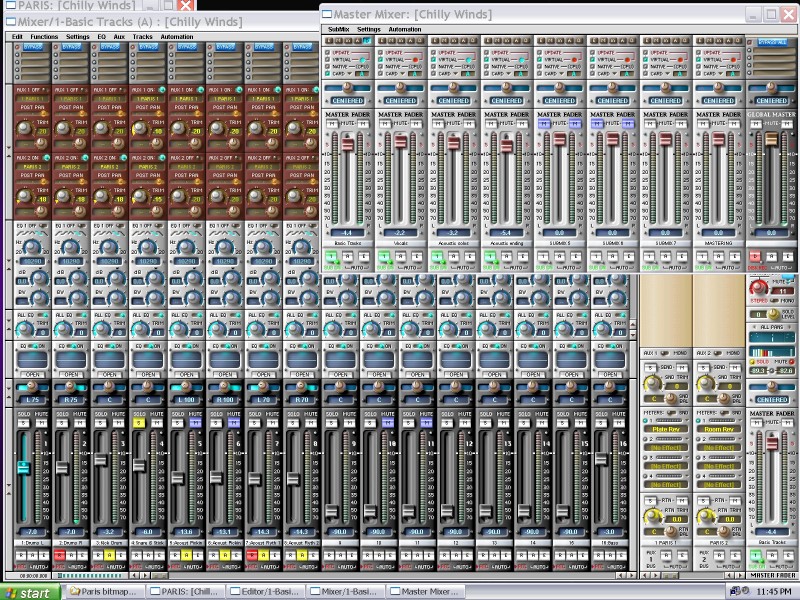 Copper Original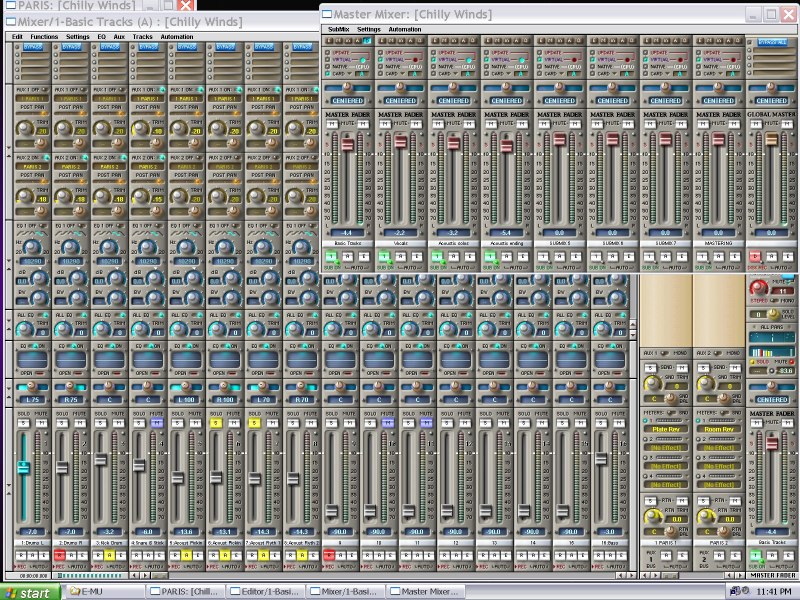 Flat Grey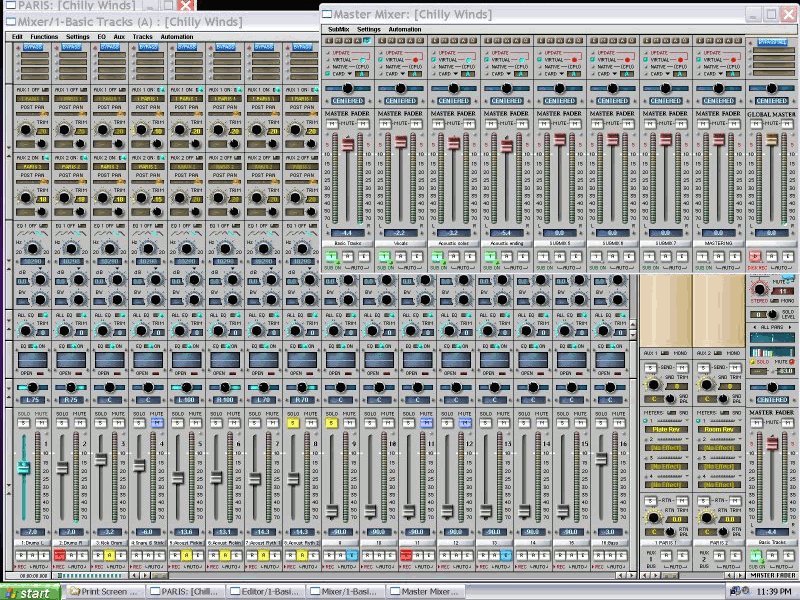 Flat Grey Custom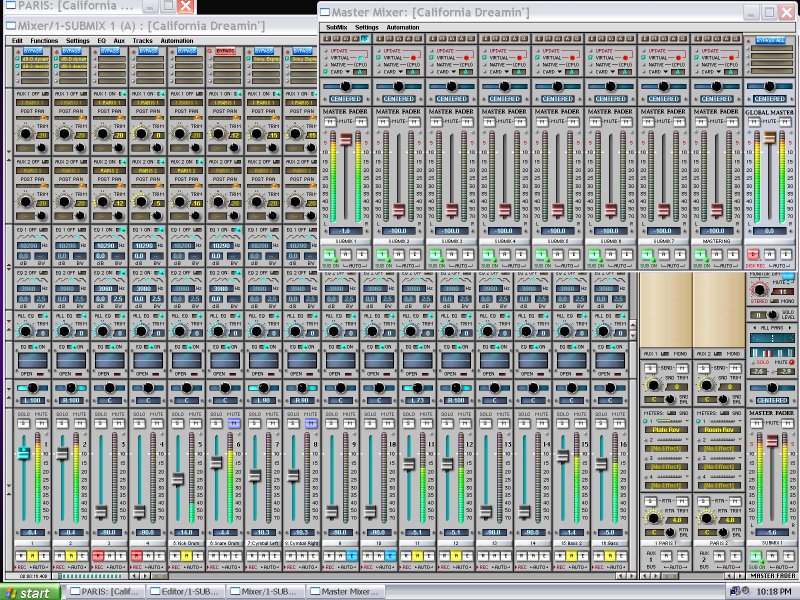 ProTools Grey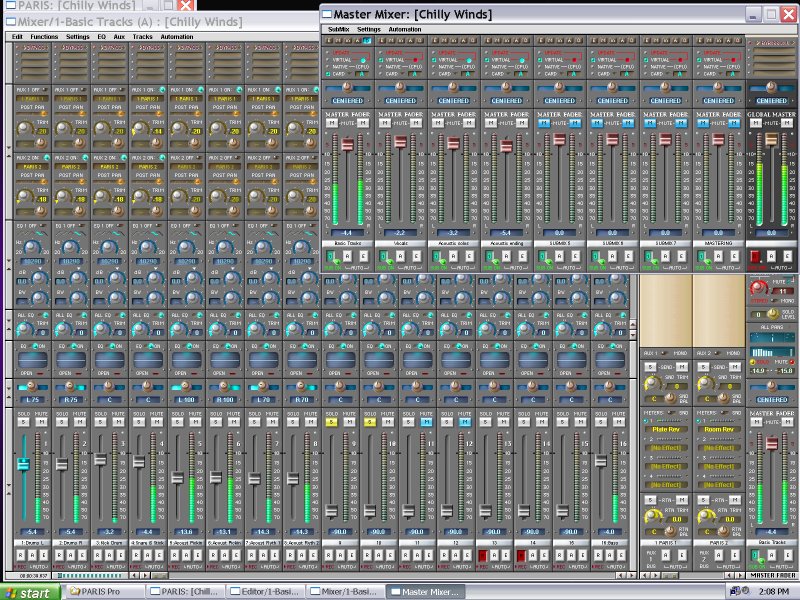 Original - White Buttons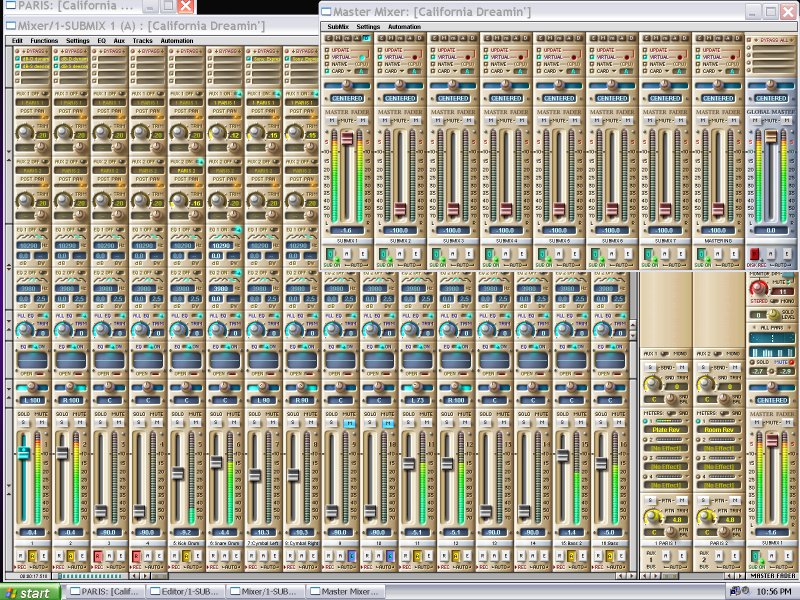 Metal - Original Buttons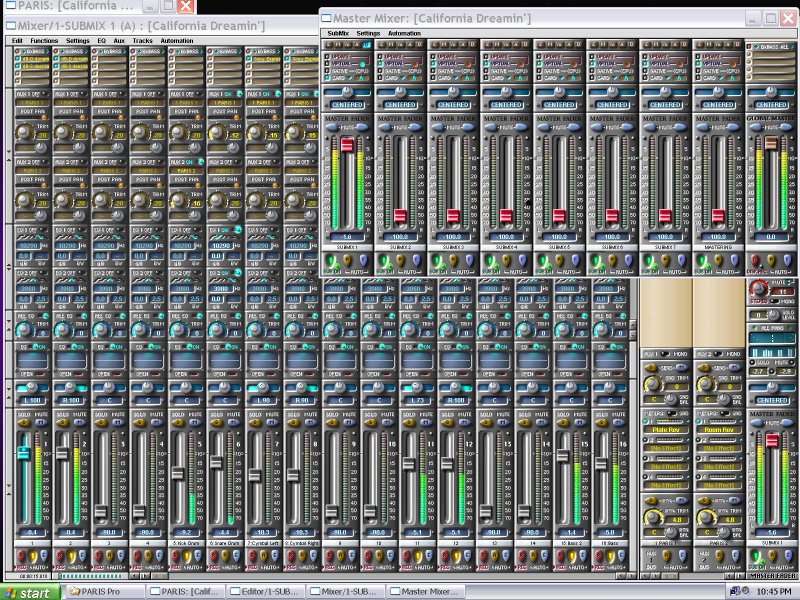 Grey Original - Square Buttons
Light Grey Flat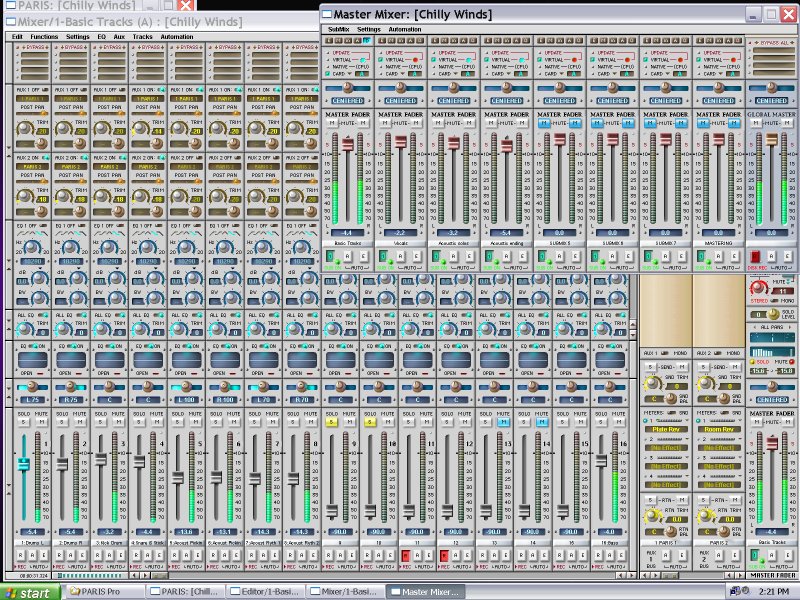 Flat Panel Multicolor